Changelog:
25/07 17: As of today, its possible to see yield per grain variety. Before it was only possible to see it per grain type.
24/07 17: When grain is put into storage, it's now possible to add an analysis ID - and its possible to put data from an analysis into each load. We support oil, protein, moist and density
19/07 17: We have made a new dashboard for harvest when logging in to grainit with direct access to yield per hectar, latest loads, graphs and other cool features
30/06 17: From today, its possible to import fields from Næsgaard Mark Software
20/03 17: new overview of inventory status - the overview is improved and we have added selection of categories to the view
19/08 16: It's now possible to see totals pr grain - added to menu "harvest"
15/08 16: We have added a view, that shows how many HA has been harvested compared to total HA
15/08 16: Number of HA is now added to Dashboard Harvest
21/07 16: On field level is it now possible to see average moist percentage
20/07 16: Det er ændret sådan, at der ikke skal være tilknyttet et produkt til en silo. Er der tilknyttet et produkt til en silo, kan dette produkt kun registreres der - men er der ikke tilknyttet et produkt, kan flere produkter registreres. Benyttes bl.a. til amerikaner-siloer, hvis der fyldes flere afgrøder i.
20/07 16: navn på indberetter vises nu i status-oversigten
20/07 16: Der supporteres nu import af marker udlæst fra MarkOnline i både xml og excel format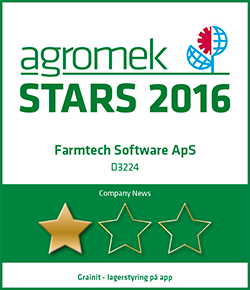 News:
22/9 2017: Grainit wins the award for innovation of the year from Danish Agriculture
22/11 2016: Meet us at Agromek Agricultual fair in Herning, DK from 29/11 - 2/12 2016
29/9 2016: grainit are nominated to ITforums Special award (DK)
22/7 2016: We have made a pretty good intro offer on grainit - see offer here
Press:
4/1 2018: Danish app for farmers lands investment from Silicon Valley
14/9 2017: Grainit keeps track of farm storage with a single click
28/11 2016: Maskinbladet.dk about Danish Agro giving customers the grainit farms storage managment tool
25/11 2016: Danish Agro offers grainit to customers (Source: Grovvarenyt - not vissible for public)
13/7 2016: Bæredygtigt Landbrug skriver om grainit og rabataftale
24/6 2016: Nyhedsomtale 3 sider i Grovvarenyt (ej tilgængeligt)
22/6 2016: Landbrugsavisen.dk om grainit
16/6 2016: Agro Business Park fortæller om grainit og Farmtech Software